through
the years
biography
When Max Boyce crossed the Rhigos Mountains from his home in Glynneath on November the 23rd 1973, to record an album 'Live at Treorchy Rugby Club', little did he know it would change his life. He had already recorded some of his earlier songs at the Valley Folk Club in Pontardawe and when EMI heard the album and subsequently saw Max perform live in concert, he was invited to sign a contract to record two live albums of his songs and stories. The musicians for that evening were hastily gathered together that afternoon. Without almost any rehearsal, the songs and stories were recorded…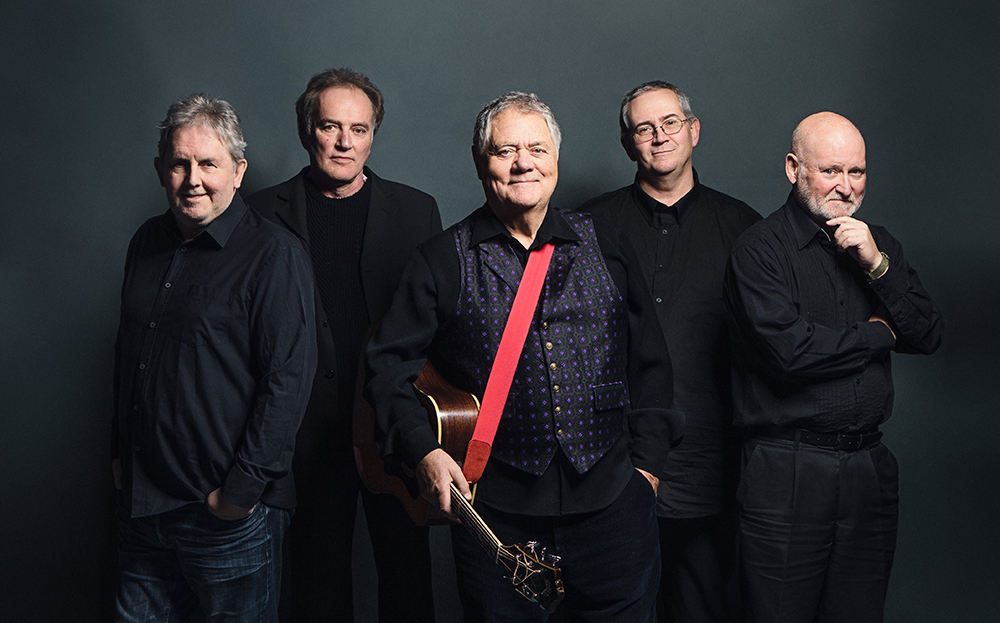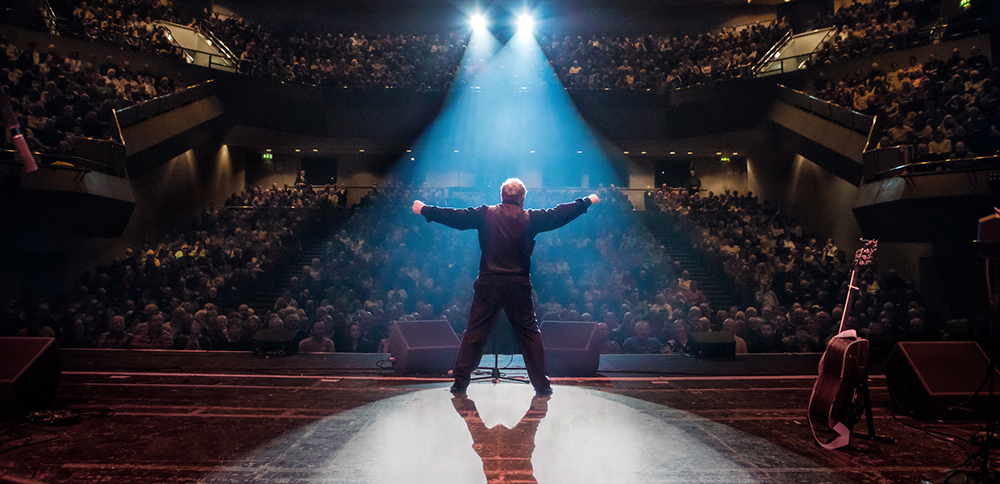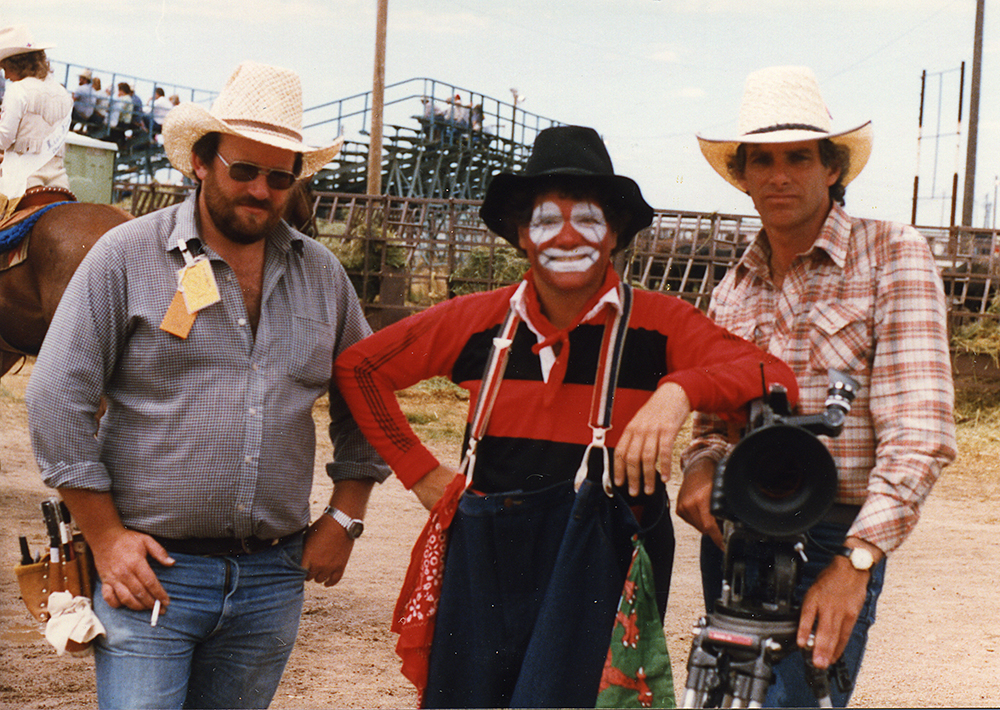 Max at the time was virtually unknown. He had, however, deliberately chosen to perform to an audience that was unfamiliar with his work to ensure the reaction was spontaneous and real. Armed with songs such as 'The Outside-Half Factory', 'Rhondda Grey' and 'Morgan Moon' he could hardly fail. No one who was there will ever forget the heady mix of laughter and song.
Following the success of the first album EMI were naturally eager to record a follow-up. However, not even they were prepared for the fact that the album – 'We all had Doctors' Papers' would reach No.1 in the album charts. A feat that earned Max a place in the Guinness Book of Records as the only comedy album to achieve that coveted position.
It was about this time that the BBC offered Max his first T.V. series. This stayed with the trusted formula of live performance filming him at theatres all over Great Britain, which further enhanced his popularity and brought his talents to a much wider audience. The success of these programmes was reflected in the 'JICTAR' TV ratings. Filling the No.1 spot, it became the most watched programme in the country, returning astonishing viewing figures.
There is inevitably a serious side to anyone who deals in humour and comedy. Max is no exception. In fact, many people would argue that Max's serious songs are amongst his finest work. This has been recognised by the National Folk Museum of Wales who have collected some of his songs, recognising them as 'songs of the people' – The essence of the contemporary folk song. They are songs of the workingman much in the same vein as Ewan McColls 'Shoals of Herring' and Pete Seagers 'Songs of the Dust Bowl'.
His coal mining and industrial ballads serve as a reminder of a particular time and place, and are deserving of permanence. His miner's strike songs like 'Did You Understand?' and a 'Winter Too Late' bear testimony to his experience of working underground for ten years after leaving school. It was with this insight and understanding that he was able to write the evocative 'Rhondda Grey' and heartfelt 'Duw! It's Hard'. They would capture the bittersweet, love/hate relationship of people who spent their working lives… "Emptying the hills to warm the world".
In 1973 Max received his first Gold Disc for 'Live at Treorchy', which went on to sell well over half a million copies worldwide. His subsequent albums 'We All Had Doctors' Papers', 'The Incredible Plan', and 'I Was There' also achieved Gold Disc status.
In 1978 Max appeared on 'This is Your Life' on Thames Television.
Max also filmed three adventure specials. His first was 'Max Boyce Meets The Dallas Cowboys' – when he played quarter back for the famous American gridiron team.
It was with the same total commitment he hurled himself into the world of the 'Rodeo Cowboy' – where he again won real, genuine admiration. In making these films, he has never been short of nerve.   He undertook some hair-raising stunts and tested himself to the limit with painful, and often hilarious, results. Some of his rodeo experiences he captured in songs that accompanied the film 'Max Boyce Goes West'.
The third of Max's outdoor specials found our intrepid hero in Nepal for the 'World Elephant Polo Championships'.
In 1990 Max was persuaded to enter the magical world of pantomime in the title role of 'Jack' in 'Jack and the Beanstalk' alongside is long time friend Ian Botham and was a huge success.
In 1995 Max undertook his first tour of South Africa to coincide with the World Cup. He played to packed out audiences who fell in love with his unique brand of humour and storytelling.
Max has never been afraid to take his songs and stories to strange and distant lands. This has supplied him with wonderful anecdotal stories. So when he was offered a ten-concert tour of the Falkland and Ascension Islands, he readily agreed and they left RAF Brize Norton for Las Malvinas.
Max once wrote (perhaps to impress a London literary agent) that his influences had been Dylan Thomas and Al Read. His real influence, however, was the community in which he grew up, the mining valleys of South Wales. These tight knit communities with their inherent warmth and humour, their sadness and their passion.
There are not many people who have filled The Sydney Opera House, The Royal Albert Hall, The London Palladium and broken box office records all over Great Britain. He makes Welsh audiences laugh even more of course, but only birthright can grant the right to that particular laughter.
Part of his success is that he has never laughed at his people but always with them. His humour, never spiteful or hurtful, even when taunting the English, the lances are not barbed, there is no bitterness. No one however, has really explained his success and perhaps we shouldn't try.
He has what all great entertainers have; an appearance and style that is all his own and belongs to him alone. Max can be mistaken for no one else. He is wonderfully unique. Max is still the wandering minstrel, the troubadour peddling his songs and stories to those who would listen.
It is what he knows best, appealing directly to the people – the stage gives him the license to rid himself of any shyness or insecurity. His songs and stories have become part of folk culture.
His television programme 'An Evening with Max Boyce', recorded in front of a celebrity audience, was an unprecedented success and attracted the greatest viewing figures ever recorded for a BBC Wales television programme. This merely seemed to confirm Max's enduring popularity and the affection in which he is held, by both old and young alike.
1999 was a momentous year for Max, with a sell-out British concert tour and a BBC television series, to coincide with The Rugby World Cup, at which Max sang his legendary 'Hymns and Arias' at the opening ceremony.
On the eve of the Millennium Max was awarded the MBE in the New Year's Honours list, and was made an Honorary Fellow of the Welsh College of Music and Drama. In that same year he was a recipient of the first ever Chancellors medal from Glamorgan University which he attended as a mining apprentice.
Later that year Max toured Australia, and performed in an unforgettable sell out concert at the Sydney Opera House. This was recorded Live for BBC television. A special guest that night was a young unknown Katherine Jenkins, whose ambition at the time was to play that iconic venue. Such was the popularity of the programme it was later released on DVD and nominated by the BBC for a BAFTA award.
Since then Max has toured constantly with huge success selling out venues as soon as they go on sale.
In 2011 on March 1st, the BBC filmed Max Boyce 'Live at Treorchy' at the Park and Dare theatre in the Rhondda Valley. This program was accompanied by a documentary following Max Boyce's early career through his often difficult formative years. These programs won huge critical acclaim, and attracted record breaking viewing figures.
In September 2013 the BBC celebrated his 70th Birthday with a TV special hosted by John Inverdale. It was the most successful light entertainment show with the largest TV ratings on BBC Wales that year.
In the same year Max received the Freedom of The Borough of Neath Port Talbot honour for his charity work and for his lifelong commitment to his community. This is the highest accolade that can be bestowed by the borough and Max follows in the footsteps of Richard Burton and Sir Anthony Hopkins.
In June 2014 Max was taken ill and had to undergo a quadruple heart bypass operation. He made a welcome recovery, and in less than a year from his surgery, he was back on stage.
In 2016 he was thrilled to receive an Honorary Master's Degree from Swansea University and an Honorary Fellowship from the University of Trinity St David.
In 2020 at the height of the first lockdown following the covid outbreak, Max wrote an epic and poignant poem, 'When Just the Tide Went Out'. It became something of an internet sensation being downloaded over 5 million times. He was even asked to perform it to the Duke and Duchess of Cambridgeshire on their Royal visit to Cardiff to thank the NHS nurses and Doctors for their bravery and service.
In November 2021 Max released his new book of songs and stories 'Hymns and Arias'. 'Hymns and Arias' contains some of his classic early songs; 'Rhondda Grey' and 'Duw It's Hard' as well as some new offerings; 'Is God In His Paint Shop', 'Aber Fan' and 'With a Whistle in His Hand' and the hugely popular 'When Just the Tide Went Out'.
There are hilarious tales of his heartache playing golf with Seve Ballesteros, playing quarter back for America's Dallas Cowboys, and being captured by Aliens on the pitch of his local rugby club.
The book is simply a delight, the work of a gifted word smith and entertainer who is able to paint pictures with words, and uniquely capture a certain time and place.
Max is a modern day folk hero. His songs and stories have become part of Welsh legend.
In 2022 we will see Max back on the road again for yet another sell out tour! He will be supported by old friend John Martin, who was Ken Dodd's scriptwriter for many years and the hilarious Rod Woodward. The winner of the BBC1 TV show Altogether Now singer and songwriter Shelleyann will also be supporting Max.
There is no doubt that Max's star is once more in the ascendant with his book 'Hymns and Arias' entering the book charts at number 1 and staying there over Christmas!